Vittorio Italian Restaurant
137 Bùi Viện, P. Phạm Ngũ Lão, district1, Ho Chi Minh city
866 803 134
A small italian restaurant on Bui Vien street with 2 levels. The dining room on the second level is quiet and air-conditioned.
White and red napkins, nice paintings on the walls representing opened windows on to the gardens.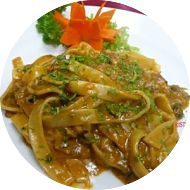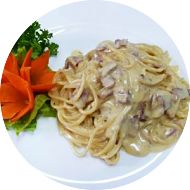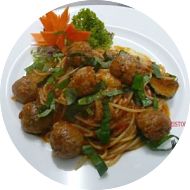 Concerning the cuisine : large selection of pizzas, salads, ravioli, gnocchi (soft dough dumplings), pastas and italian desserts.
Simply by looking around, we can see clients smiling and enjoying their meal. Portions are generous et it's smelling so good inside the restaurant.
The reason for this is likely that the cook is using a traditional wood oven to bake the pizzas. It's probably the best way to cook a pizza, the dough is thus crusty and perfectly cooked with a really unique taste.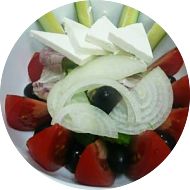 Concerning the service : waiters are nice and polite but not very concentrated on their work. In a restaurant with many foreigners as clients, using mobiles or playing around can be regarded as a clear lack of wider knowledge on their job and even a lack of respect for the customers.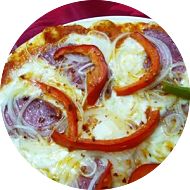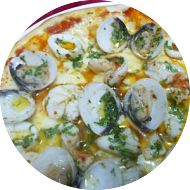 Concerning the prices : quite correct when we consider that most of the products are imported.

For 3 people, including drinks, we paid 580.000vnd.
We chose 2 large pizzas, 1 carbonara pasta, 2 pancakes, 1 portion of french fries and drinks.
We tested the owner by asking for a spritz (Italian drink commonly served as an aperitive in Northeast Italy. The drink is prepared with Prosecco wine (sparkling white wine), a dash of Campari then topped off with sparkling mineral water).
We were very surprised that they serve us that drink, thank you so much to the owner or as the saying goes "Grazie mille"
Opening hours: monday to sunday from 8.30am to 11.30pmdu lundi au dimanche de 8h30 à 23h30
Style cooking: italian cuisine
How to find Vittorio Italian Restaurant
The italian restaurant Vittorio is very closed from the vietnamese restaurant Five Oysters and the Little India.
Only 3 minutes by taxi from Ben Thanh Market.
In Bui Vien street, you can find many hawkers, tourist agencies, so you can get tickets to most attractions and of course a large choice of restaurants and shops.
An easy way to find his way - The Map
Customers and Users review